NEW - Absorbent and discreet underwear for bladder weakness - specially developed for both women and men.
Attends have developed a complete range of discreet underwear, specially adapted to the needs of both women and men. Our disposable and absorbent pants are extremely easy to put on and take off and thanks to the comfortable hip height, they are discreet and feel like real underwear – allowing you to feel in control.
---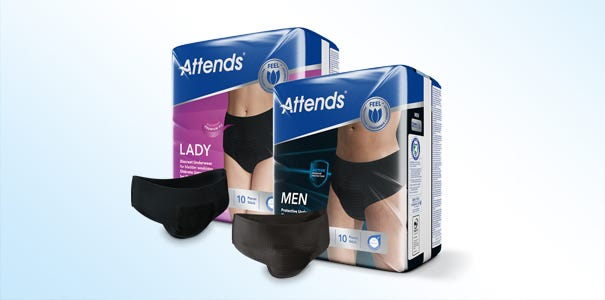 For an active lifestyle
With Attends Lady Discreet Underwear and Attends Men Protective Underwear you can continue with an active lifestyle. Thanks to the superior fit and comfort, our soft pants feel like real underwear. The finely woven elastic threads ensure a snug fit - without slipping. The high-performance absorbent core protects against leakage and odour so you can feel safe - even when you're out and about.
---
Designed to be skin friendly
Our discreet underwear is particularly skin-friendly and certified according to OEKO-TEX Standard 100. This means that the absorbent pants have been tested for harmful substances and are harmless to human health. They are made from a breathable material and also feature a comfortable waistband, feeling soft and pleasant on the skin.
---
Feel sale and secure
Feels like real underwear.
For active people who like to be on the move.
Comfortable hip height.
Snug fit due to finely woven elastic threads.
Not visible under normal clothing.
Available in black, with white absorbent core.
Suitable for light to moderate bladder weakness.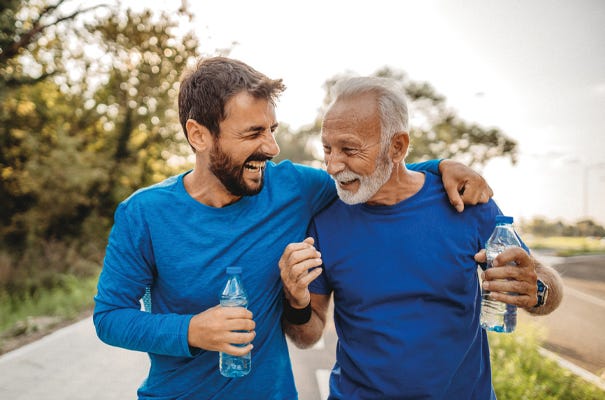 ---
Discreet underwear also available in white
We also provide absorbent and discreet underwear in white. Our Pull-Ons range has been developed to give you peace of mind and is available in a range of sizes and absorbencies, so you can find the best fit and absorbency level for your needs. New Pull-Ons Discreet are suitable for light to moderate bladder weakness and are designed specially for both men and women.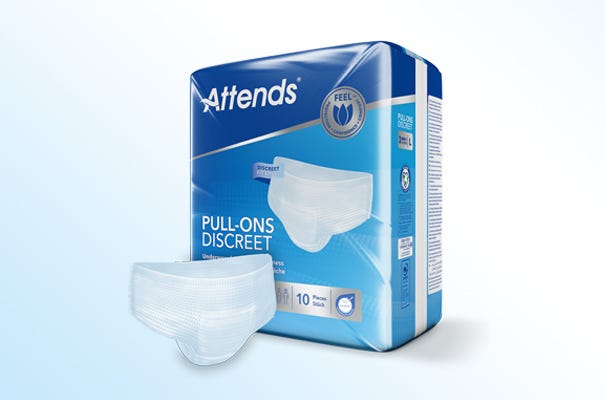 Features and benefits
Fully elasticated waistband for a snug fit around your body.
Dual Core with acquisition layer provides extra absorbency in the centre of the pad which helps reduce the risk of leakage and keeps the skin dry.
Ultrasonic Bonding Technology without glue for increased softness.
Soft white leakage barriers reduce the risk of leakage.
Wetness indicator to show when the product needs changing.
Top tip! Before using our absorbent discreet underwear, it's important that you first measure your hip and waist size first, using the larger of the two measurements to correctly select the right size.
For further information about our range of protective underwear, click here.