Meet Our New And Improved Attends Pull-Ons
Soft and discreet absorbent pants that feel like underwear – now with an even softer feel and better protection!
We are proud to introduce our new Attends Pull-Ons range with several new and upgraded features. Improved fitting, discretion and comfort are just some key features you will notice.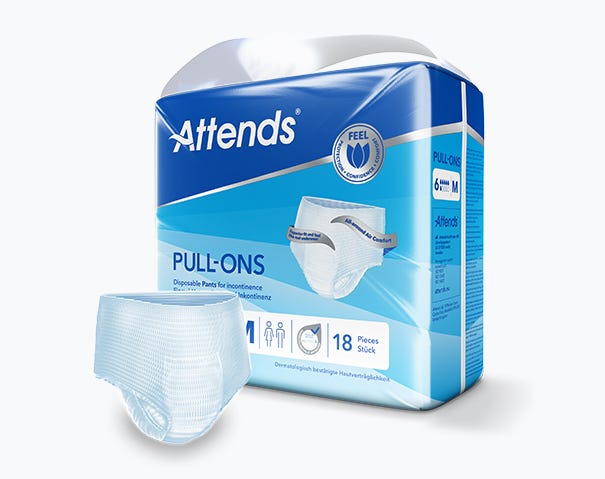 New Bag Design
One of the first things you will notice, is the updated design of the Attends Pull-Ons bags. They are now blue with a prominent information bar / space where you can easily see the absorption level with drops, waist size, what genders the products are suitable for and how many pants are in each bag.
New numbering
We have also changed the absorption number of the previous Attends Pull-Ons 3 and 5. They are now named Attends Pull-Ons 4 and 6, which is a better reflection of the actual absorption capacity of the products – the products inside continue to be the same super absorbent pull-up pants.
Discretion
We know that users of our products appreciate discretion. That is why our Attends Pull-Ons comfortably adapt to your body with a fully elasticated waistband and improved fitting. Attends Pull-Ons are slim and discreet. This makes them less noticeable – even under tight clothing.
Comfort
The back sheet of the new Attends Pull-Ons are now 100% breathable for improved wearer comfort. It has Maxi Comfort technology and full-panel elastics with ultrasonic bonding. The absorbent Attends Pull-Ons pants are practical and skin-friendly – so you can have an active life with the feeling of security.
We are confident you will appreciate the upgrades in our Attends Pull-Ons range.
You can easily order them at our online shop or order a sample to try before you buy.