Hello and welcome!
Here, as a healthcare professional you can order free product samples and brochures that can support you in your work with incontinence care.
We at Attends want a close collaboration with you where we work together for a person-centered incontinence care where we offer the right products to each individual user.
Our experienced sales team and product specialists are available to guide and assist you.
Contact us for more information.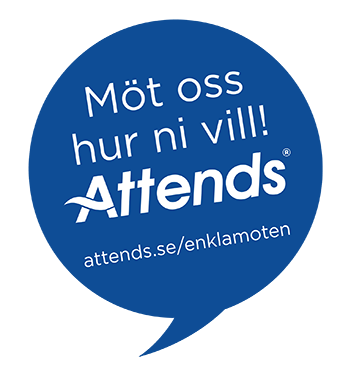 Fia Gunnarsson
District Manager
070 - 559 77 30
fia.gunnarsson@attindas.com
Stockholm, Dalarna, Västmanland and Uppland
Ann-Helen Söderström
District Manager
0380-459 12/070-351 14 71
ann-helen.soderstorm@attindas.com
Stockholm & Gävleborg
Anna Alkesjö
District Manager
070-3197737
anna.alkesjo@attindas.com
Stockholm,Södermanland & Gotland
Emma Andren
District Manager
0380-477 01/072-142 73 89
emma.andren@attindas.com
Stockholm
Lovisa Dahlström
Product Specialist
070-3516251
lovisa.dahlstorm@attindas.com
Västra Götaland,Örebro,Östergötland
& coordinator Värmland
Kicki Blomquist
District Manager
0380-475 53/070-351 14 66
kicki.blomquist@attindas.com
Norrbotten,Västerbotten,Jämtland
& Västernorrland
Chatarina Staafjord
District Manager
0380-477 48/076-018 20 94
chatarina.staafjord@attindas.com
Västra Götaland, Halland, Östergötland
& coordinator Värmland
Hanna Andersson
District Manager
0380-475 83
hanna.andersson@attindas.com
Skane,Kronoberg & Blekinge
Rose-Marie Fransson
Support/Test warehouse
Tel-Attends: 020-77 80 00